A measurement of the local gravitational acceleration.
---
Watch The Video:
---
Teachable Topics:
Newton's Laws
Acceleration
Gravity
---
Theory:
A body of mass will fall at a constant acceleration due to the attraction of mass between the body and the mass fo the earth. If the acceleration is labeled g, then we can write:
F = mg
where m is the mass and F is the force the earth exerts on it.
Since acceleration is the result of the change in velocity (Δv) with the passage of time (Δt),
---
Apparatus:
Ruler
12V DC power supply
Photogate
steel ball
Three clamps
Vernier caliper
Scissor jack
Electromagnet
Alignment string
Four connecting wires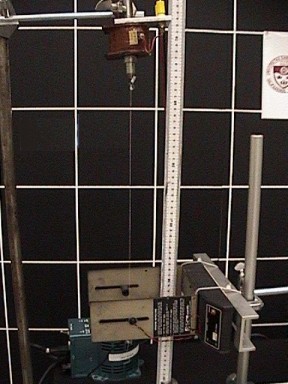 ---
Procedure:
Once the equipment is clamped in place, align the photogate with the electromagnet. This is done using an alignment string, which hangs from the electromagnet, (See photo).
After it is aligned, remove the string, and adjust the strength of the electromagnet so the metal ball is hanging from the top.
Then reset your photogate before dropping the ball through.
Repeat this three times, adjusting the height each time.